Philipsburg,
Fishing team Navigator, from Saba, skippered by Ryan Hassell emerged overall winner at the 11th annual SXM Wahoo tournament powered by Coors Light on Friday November 11th at Bobby's Marina after reeling in 20 wahoo 565.10 lbs of fish for most weight overall.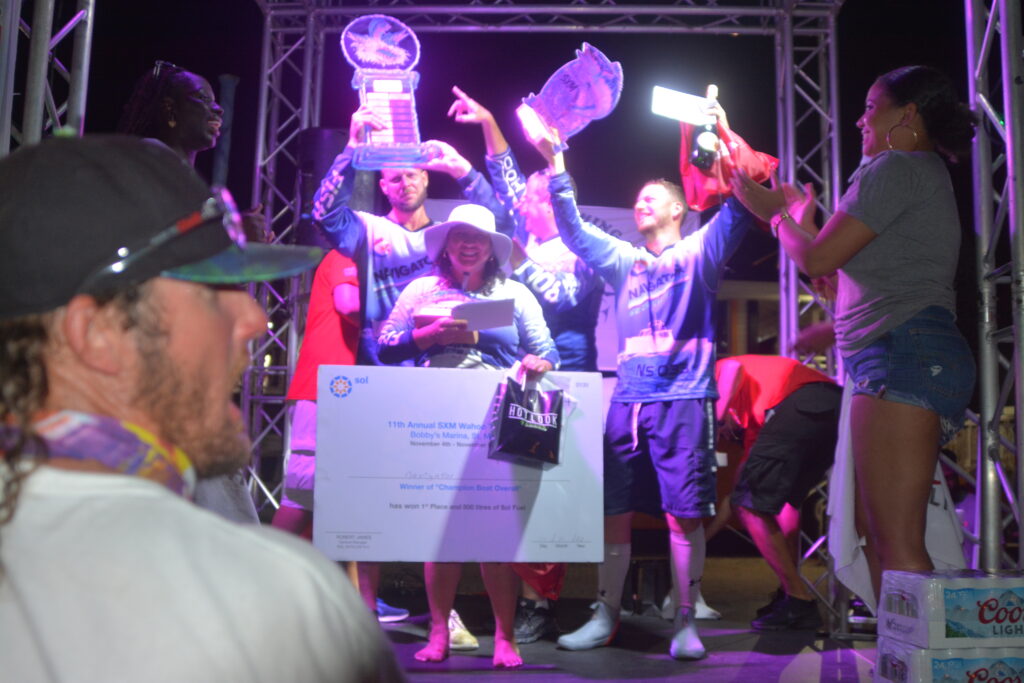 In addition to having their named inscribed on the perpetual trophy, the winningest team automatically receives an invitation to the Offshore World Championship (OWC) in Costa Rica in April 2023.
The second most weight prize went to 'Yellow Whip, of Saint Martin, a group of fishing fanatics led by Laurent Petit. The runner up team had 413.80 lbs of qualifying wahoo.
There was a record breaking catch of the day, which stole much of the attention.
The prize for the heaviest individual wahoo of the tournament went to team ''Three Little Birds'', a boat from French St. Martin, skippered by Max Casaubon.
They got a loud applause from the onlookers when their 77.8 lbs Wahoo tilted the scales, breaking the  10 year record of 74.30 lbs.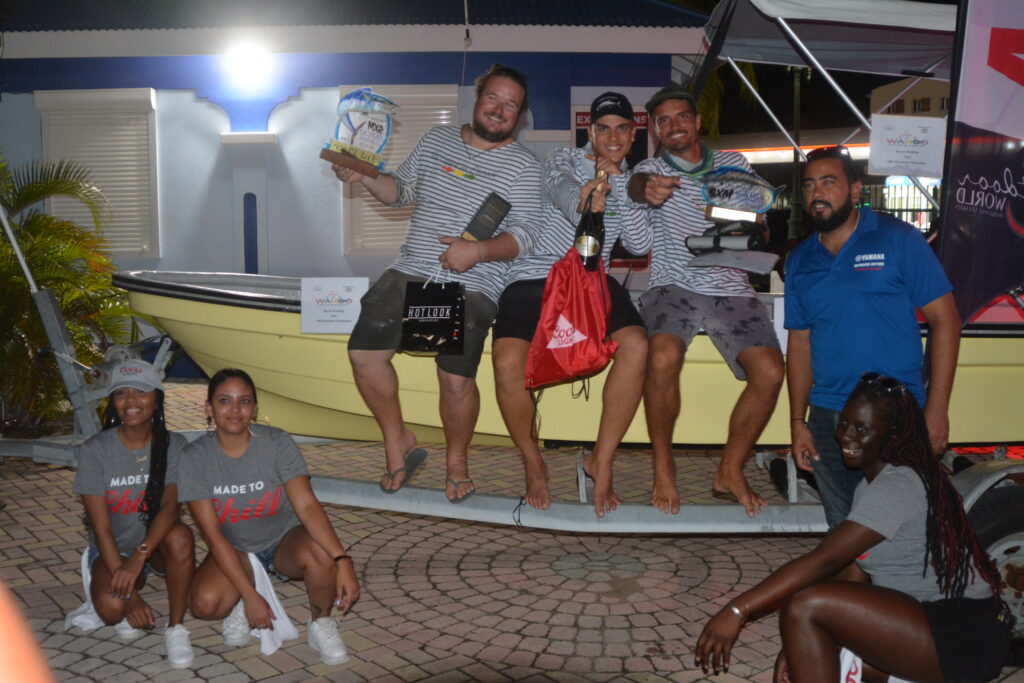 With that monster fish, fishing team Three Little Birds also won, the Wahoo Challenge and the Calcutta prize.
They also toke home the record breaking prize, a brand new 18ft boat from Outdoor World St.Maarten.
Fishing team  Vitamin Sea caught a 14.7 lbs tuna which earned them a prize.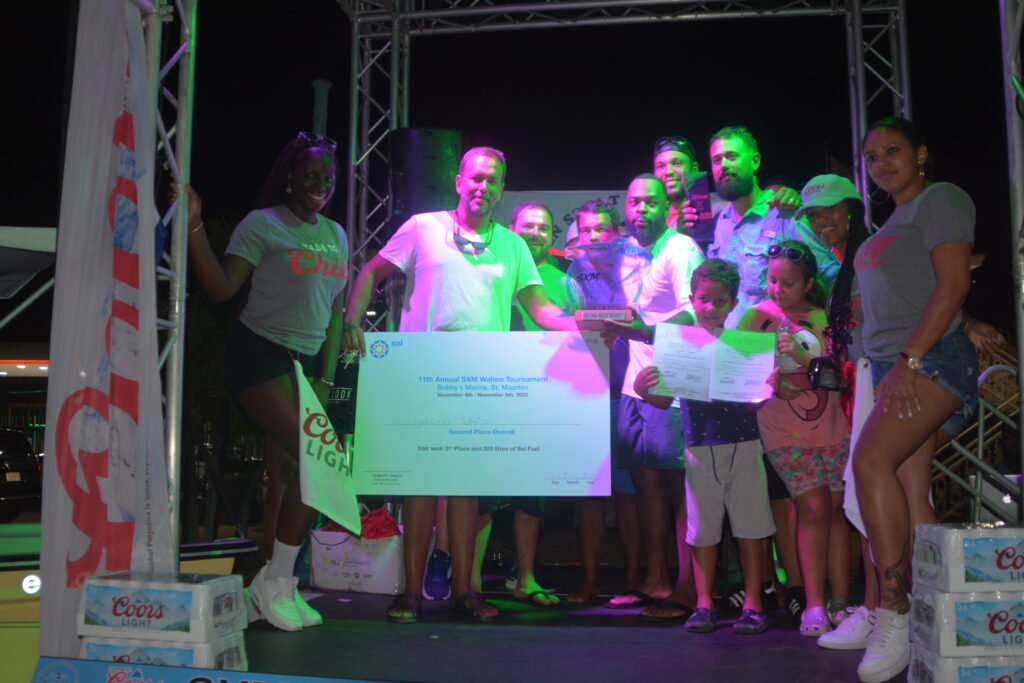 The smallest boat of the event, which traveled all the way from Statia to participate in the event, also had themselves a nice day with 4 wahoo, received a complimentary prize for their efforts.
The best female angler of the event was Mrs. Gina Hassell aborad F/V Navigator after reeling in 3 wahoos, largest weighing in at 55.7 lbs.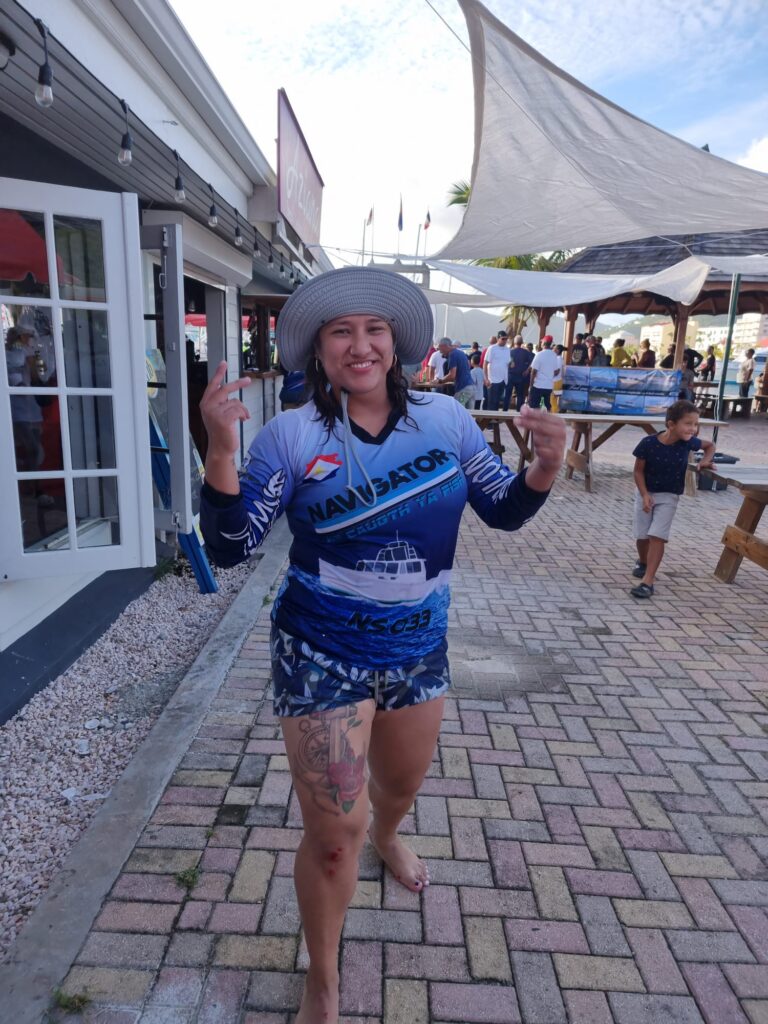 Organized by the St. Maarten Sport fishing foundation (SSFF), the tournament made another triumphant return to Bobby's Marina Village after an absence of two years due to the COVID pandemic.
A good crowd of spectators gathered around the docks at weigh-in time to see the day's catches and to enjoy the entertainment, food & beverage stands.
Some 18 boats had registered on Thursday with just a handful dropping out at the last minute for various reasons.
Amongst the fleet, five boats came over from Saba, seven boats from St.Barths, four from Saba, Five from Saint Martin, One from St.Kitts and one from Statia showing that distance is no obstacle for a tournament as popular as this one.
President of the SSFF, Sergio Hodge considered the tournament a great success, given its long absence from the fishing calendar.
''The local and regional boating community really wanted on fishing tournament on St.Maarten again. Everyone needed something to look forward to after the Pandemic. it's taken the better part of two years to recover and regroup'', he said.
In such situations, you must take care of your direct surroundings and families before you can think about putting time and resources into a fishing tournament, and that's understandable.
We are proud and excited to be back hosting this fishing tournament.
The fishing conditions were close to perfect thanks to the Full Moon.
Bigger boats didn't have any advantage over smaller boats, it was moderate Caribbean weather, and this tournament has no fishing boundaries.
Based on the great support from an entourage of fishermen, supporters and our dedicated sponsors, organizers will most likely go back to hosting a two-day tournament as soon as next year.
The Tournament was made possible by Coors Light, ILTT, SOL, Outdoor World St. Maarten, WINAIR, Island Life Lures, Bobby's Marina, Great Bay Express, JW Web Services, Lacoste, Top Carrot, Madd Design, Best Wood SXM.