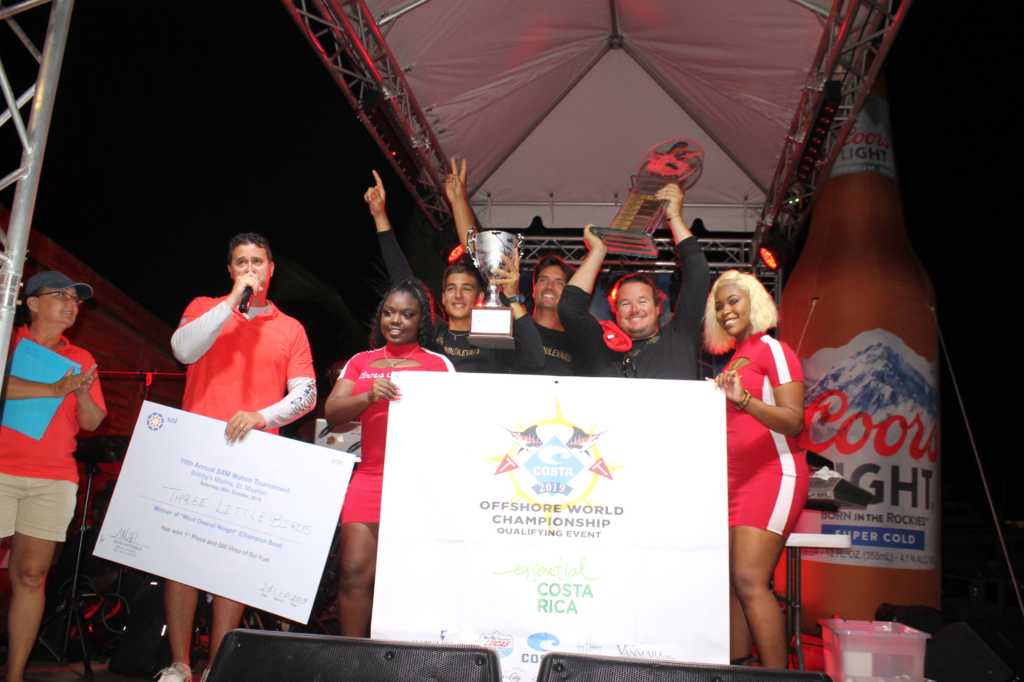 Philipsburg,
Three Little Birds, a boat from French St. Martin, crewed by Max Casaubon, Tom Houilliez and Jules Clement emerged overall winner at the 10th annual SXM Wahoo tournament powered by Coors Light on Saturday at Bobby's Marina after reeling in 237 lbs of fish for most weight overall.
In addition to having their named inscribed on the perpetual trophy, the winningest team automatically receives an invitation to the Offshore World Championship (OWC) in Costa Rica in April 2020.
The second most weight prize went to 'Ali-Cat', a Philipsburg based vessel of Dutch St. Maarten, crewed by Evan Deher and Randy Halley. The runner up team had 165 lbs of qualifying wahoo.
Team 'Happy Hour' from Saba landed the heaviest yellowfin tuna of the competition.
The prize for the heaviest individual wahoo of the tournament went to team YELA from St.Barths after landing a 54.0 lbs wahoo. Team YELA ended the day with good fortunes after also capturing, the optional, wahoo challenge and Calcutta pool, which increased their cash winnings to $ 4750 for the day.
Organized by the St. Maarten Sport fishing foundation (SSFF), the tournament made a triumphant return to Bobby's Marina Village after an absence of two years due to Hurricane Irma.
A good crowd of spectators gathered around the docks at weigh-in time to see the day's catches and to enjoy the entertainment and food and beverage stands. Some 23 boats had registered on Friday with just a handful dropping out at the last minute for various reasons.
Amongst the fleet, five boats came over from Saba, seven boats from St.Barths, three from St. Croix and one from Nevis showing that distance is no obstacle for a tournament as popular as this one.
Team Askari from Nevis won a prize for their effort in coming over to the tournament in what turned out to be the smallest boat in the competition.
President of the SSFF, Sergio Hodge considered the tournament a great success, given its long absence from the fishing calendar. ''St.Maarten was in a bad place after the hurricanes in 2017, also in 2018. it's taken the better part of two years to recover and regroup'', he said.
In such situations, you must take care of your direct surroundings and families before you can think about putting time and resources into a fishing tournament, and that's understandable.
Fast forward to 2019, we are proud and excited to be back hosting this fishing tournament.
The fishing conditions were close to perfect thanks to the dark moon. Bigger boats didn't have any advantage over smaller boats, it was calm, and this tournament has no fishing boundaries.
Based on the great support from an entourage of fishermen, supporters and our dedicated sponsors, organizers will most likely go back to hosting a two-day tournament as soon as next year.
The prize giving ceremony was preceded by a minute's silence for three avid fishermen who passed away this calendar year: Tony Velasquez, Randall 'China' Zagers and Richard 'Shorty' Homberg.
The Tournament was made possible by Coors Light, ILTT, Outdoor World, SOL, WINAIR, Bobby's Marina, Great Bay Express, Real Auto and Showtime sound.