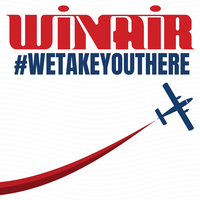 15 September 2019
Philipsburg, St.Maarten,
With just 40 days to go until the 10th annual SXM Wahoo tournament, the St. Maarten Sport Fishing Foundation (SSFF) would like to recognize WINAIR as one of our longest standing sponsors over the years.
This year marks the 10th consecutive year that WINAIR supports the SXM Wahoo tournament!
Founded in 1961 by Georges Greaux, WINAIR, is the abbreviation of Windward Islands Airways International NV, a government-owned airline based in Sint Maarten.
The fleet of seven aircrafts serving sixteen destinations, such as: Antigua, Aruba, Bonaire, Curacao, Dominica, Guadeloupe, Haiti, Santo Domingo, San Juan, Nevis, St.Kitts, St.Eustatius, St.Barths, Saba, St.Maarten and Tortola.
WINAIR has provided safe and efficient air transportation in the Caribbean for more than 55 years.
WINAIR's mission is to be a leading safe, viable, reliable & profitable regional carrier that maintains a high level of safety like no other airline, continually expanding and improving its services. Whereby, customer will experience, satisfaction, through professional, courteous, service that will leave a positive long lasting impression, second to none!
For more information and future bookings, visit www.fly-winair.sx
The SSFF is thankful to WINAIR for their continuous support shown over the last decade, and hereby recognizes WINAIR as the official airline of the SXM Wahoo tournament.
We look forward to a strong, continuous relationship with WINAIR.
For full information on the SXM Wahoo tournament, including results of previous years, photos, videos, party- and band information, and much more visit www.sxmsportfishing.com
Reel it in SXM!